Trail Highlights:

Lake views; mountain views; wildflowers
Round-trip Distance:
12.70 miles / 20.50 km
Location:
Alpine Lakes Wilderness and Mt. Baker-Snoqualmie National Forest,
Snoqualmie Pass / Snoqualmie Valley, Washington Central Cascades

Ancestral lands of the Snoqualmie
Directions:
From east- and westbound Interstate 90, take Exit 47

From Exit 47, turn left from eastbound/right from westbound onto Tinkham Road/Forest Road 55 (road name may not be posted)

Proceed 0.10 miles/0.16 km to intersection

Turn left onto Forest Road 9034, signed for Pratt Lake and the Granite Mountain Lookout

Proceed 0.30 miles/0.50 km to the parking lot
Required Pass:
Northwest Forest Pass or equivalent for U.S. Forest Service sites
Additional Trail Info:
Washington Trails Association
U.S. Forest Service
---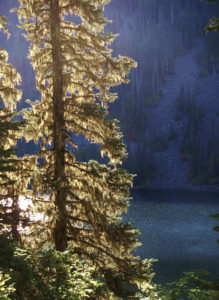 The trail to Pratt Lake climbs gradually through pleasant, evergreen woodland, crossing several chattering brooks before dropping into the large stony basin where the lake pools on the edge of the Pratt River Valley below.  Here and there, bird's-eye views open to surrounding peaks and hollows.  The trail eventually loses the distant rush of Interstate 90 as it arcs northward and deeper into wilderness, as well as the majority of other hikers who turn upward for the popular summit of Granite Mountain after the first 1.00 mile/1.60 km.
The trail rounds the lower flanks of Granite Mountain and its neighbor, Tusk O'Granite (or West Granite) Mountain, climbing moderately to the Pratt Saddle, the narrow ridge that connects them to Pratt Mountain, before descending steeply into the lake's massive basin along the boulders of Pratt Mountain's eastern slope.  The trail is part of a larger network that links many popular hiking destinations in the southwest corner of the Alpine Lakes Wilderness.  Along the way, connecting trails branch to the summit of Granite Mountain, down to Talapus and Olallie lakes, beyond the Pratt Saddle to Island, Rainbow, and Mason lakes, and, past Pratt Lake, to Lower Tuscohatchie and Melakwa lakes, among other points more distant.  (At just 0.50 miles/0.80 km beyond Pratt Lake, Lower Tuscohatchie Lake is a worthy jaunt for a bit of solitude and impressive views.)
During the brief alpine spring, a panoply of wildflowers populates the trailside, culminating in drifts that sweetly scent the air beside the lake.  In late spring and early summer, listen for the enchanting, piccolo-like calls of hermit thrushes (Catharus guttatus) echoing along the trail and throughout the lake basin, punctuated by the mournful cries of varied thrushes (Ixoreus naevius), particularly in the evening as other birds fall silent.