---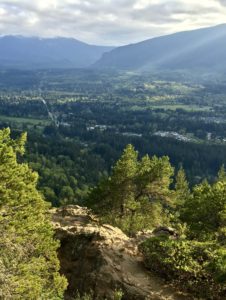 Little Si's junior designation and small size in comparison to its larger counterpart, Mount Si, or "Big Si," do not diminish its distinction as a hardy half-day hike in its own right.  The two are informally known as "Resolution Peaks," given their popularity for physical fitness training, particularly around the New Year.  Little Si's trail alternates between moderate to very steep along its relatively short distance.  At lower elevation, verdant deciduous forest encloses the trail in the spring and summer months, transitioning to dense evergreen woodland as it climbs.  Unusual rock formations characterize the trail, with boulders strewn throughout the wayside, cliffs soaring to the treetops, and craggy ledges crowning the summit.
The trail's less-travelled Boulder Garden Loop departs the main trail just 0.30 miles/0.50 km from the trailhead and climbs approximately 1.50 miles/2.40 km up and over a steep ridge before rejoining the main trail a mere 0.20 miles/0.30 km from where it diverged.  Along the way, the quiet loop trail meanders through the knobby, sometimes house-sized rock formations that are its namesake, towering conifer columns, and a weft of delicate vine maples that, in autumn, light the wayside wood with gold.  The Boulder Garden Loop also provides alternate access to the Mount Si trail.  The Douglas Fir Trail departs the loop trail approximately 0.25 miles/0.40 km from loop's lower junction with Little Si Trail and joins the main Mount Si trail approximately 1.00 mile/1.60 km from the Mount Si trailhead.  The very steep Old Si Trail branches from the loop trail about 0.50 miles/0.80 km from the loop trail's upper junction with the Little Si Trail and connects to the main Mount Si trail approximately 1.00 mile/1.60 km from Mount Si's summit and again just below the summit.  The Old Si Trail is currently not marked, but is easily seen at a sign that clarifies which fork to take to remain on the Boulder Garden Loop.  Simply take the other fork to access the Old Si Trail.
Whichever path you choose, be prepared with the appropriate traction gear for your comfort.  The trail's popularity has reduced it to bare rocks and roots in several sections and, on its northern end, the Boulder Garden Loop is quite narrow and rocky.  And do come expecting to share this well-trodden trail with others, especially on weekends.  Finally, exercise great care along the cliff's edges at the summit, as falls could end unfortunately.