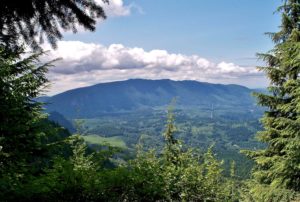 Rattlesnake Mountain is the easternmost in the range of low mountains known as the Issaquah Alps, which also include the other similarly ominous-sounding peaks Cougar Mountain and Tiger Mountain.  Don't worry, this one's name is a misnomer – there are no rattlesnakes west of the Cascades.  Rattlesnake Mountain is traversed by an 11.00-mile/17.70-km trail along its spine, with trailheads on either end.  Its highlight is Rattlesnake Ledge, which is actually the first of three stone benches that jut dramatically from the mountain's eastern end, and, as a worthy destination, is a more moderate round-trip hike of only 4.00 miles/6.40 km from the Rattlesnake Lake trailhead.  On a clear day, the ledges afford magnificent views down the several mountain valleys and ridges that converge below.  Farther west, the mountain's dense forest opens to sweeping northward views at East Peak, Grand Prospect, and Stan's Overlook and, where logging has felled the forest on the mountain's far side, southward to Mt. Rainier.  Because the mountain is subject to routine logging operations, the trailside beyond Rattlesnake Ledge is a patchwork of clear-cuts, tangled thickets, and more mature woodland.  Wildflowers flourish in the new-found sunlight of the recently logged areas, whilst fungi thrive on the detritus left behind.
Because the trail's full round-trip distance to and from either trailhead may be excessive for most (22.00 miles/35.40 km), this profile is divided into two more manageable hikes, each just under 10.00 miles/16.00 km round-trip, one beginning at the east end's Rattlesnake Lake and attaining the ledges and East Peak, and the other beginning at the west end's Snoqualmie Point Park and reaching Stan's Overlook and Grand Prospect.  For those wishing to go further in either direction, East Peak and Grand Prospect are separated by approximately 1.10 miles/1.80 km of dense forest and clear-cut.
Given the mountain's proximity to Puget Sound and relatively low elevation, it is generally hikeable year round.  However, it can receive significant snowfall in winter, which, even if not present at the trailheads, accumulates and deepens quickly as the trail climbs, often trodden to ice by the many foregoing visitors.  Be sure to check recent trip reports at the "Additional Trail Info" links below before setting forth and take appropriate footwear.  And, given their relative ease of access, the ledges are often thronged with hikers throughout the day.  Try arriving early to enjoy the views without the distracting crowds, especially those inevitable few who teeter on the literal brink of disaster at the ledges' edges.
---
EASTERN ROUTE — RATTLESNAKE LAKE TO RATTLESNAKE LEDGE AND EAST PEAK

Trail Highlights:

Panoramic and mountain views
Round-trip Distance:
4.00 miles / 6.40 km (Rattlesnake Ledge)
8.80 miles / 14.16 km (Rattlesnake Ledge and The East Peak)
Location:
Rattlesnake Mountain Scenic Area,
Issaquah Alps / Snoqualmie Valley

Ancestral lands of the Snoqualmie
Directions:
East- or westbound on Interstate 90, take Exit 32

Turn right from the eastbound freeway ramp/left from the westbound freeway ramp onto 436th Ave. SE (which becomes Cedar Falls Road SE)

Continue 2.70 miles/4.30 km to the Rattlesnake Lake parking lot on the right

The trailhead is at the north end of the lot, indicated by signage
Required Pass:
Discover Pass or equivalent for state recreation sites
Additional Trail Info:
Washington Trails Association
Washington State Department of Natural Resources
---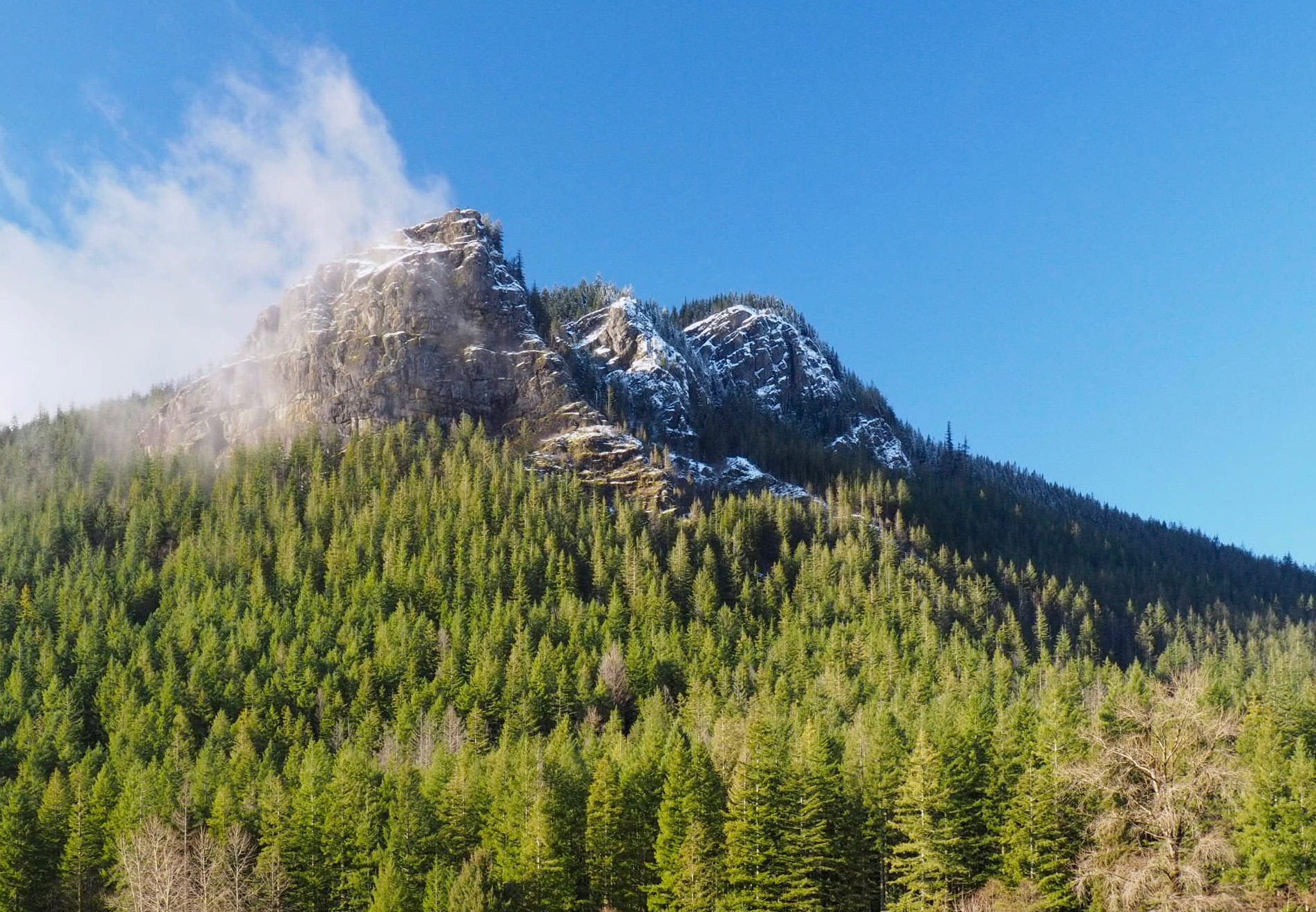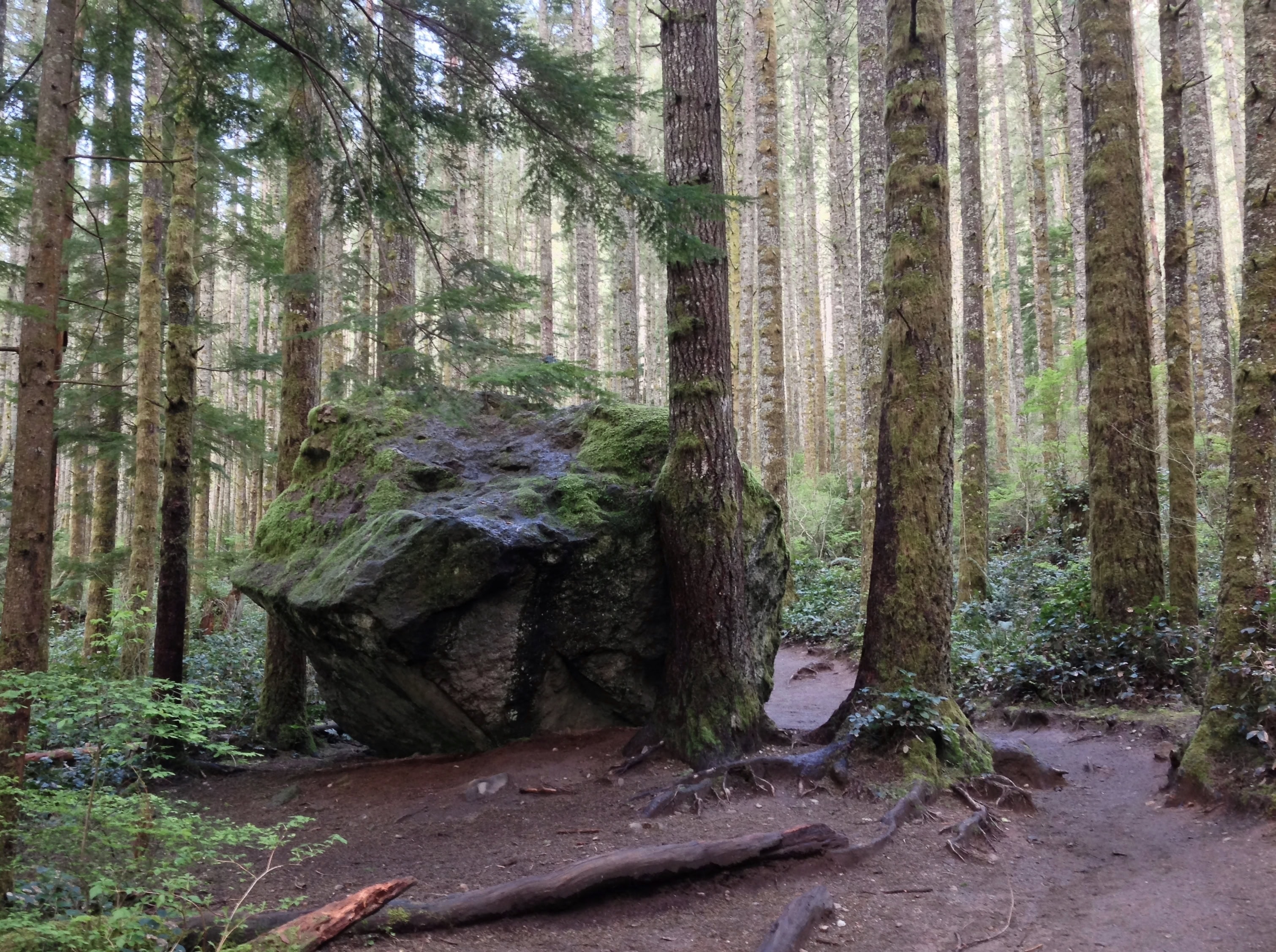 ---
WESTERN ROUTE — SNOQUALMIE POINT TO STAN'S OVERLOOK AND GRAND PROSPECT

Trail Highlights:

Panoramic views; wildflowers; fungi

Round-trip Distance:

5.00 miles / 8.00 km (Stan's Overlook)
9.80 miles / 15.80 km (Stan's Overlook and Grand Prospect)
Location:
Raging River State Forest and Rattlesnake Mountain Scenic Area,
Issaquah Alps / Snoqualmie Valley

Ancestral lands of the Snoqualmie
Directions:
Eastbound on Interstate 90, take Exit 27; westbound on Interstate 90, take Exit 25, turn left under the freeway and immediately turn left onto the freeway to reach Exit 27

From Exit 27, turn right onto Winery Road (road name is not visible from the ramp)

Take the third right into the parking lot, approximately 0.50 miles/0.80 km from the exit
Required Pass:
Discover Pass or equivalent for state recreation sites
Additional Trail Info:
Washington Trails Association
Washington State Department of Natural Resources
---