Trail Highlights:

Waterfalls; river views; wildflowers
Round-trip Distance:
2.50 miles / 4.00 km (from the Twin Falls trailhead)
3.20 miles / 5.10 km (from the Homestead Valley trailhead)
5.40 miles / 8.70 km (both Twin Falls and Homestead Valley routes)
Location:
Olallie State Park, Snoqualmie Pass / Snoqualmie Valley,
Washington Central Cascades

Ancestral lands of the Snoqualmie
Directions:
Western Trailhead:

From east- or westbound Interstate 90, take Exit 34

From Exit 34, turn right from eastbound/left from westbound Interstate 90 onto 468th Ave. SE and proceed 0.60 miles/1.00 km

Turn left onto SE 159th Street and proceed 0.50 miles/0.80 km

The parking lot is at the end of SE 159th Street

Eastern / Homestead Valley Trailhead:

From eastbound Interstate 90, take Exit 38

Turn right onto SE Homestead Valley Road and immediately cross a bridge

Just after crossing the bridge, turn right up a short gravel road to the parking lot, as indicated by signage for Olallie State Park and Twin Falls


From westbound Interstate 90, take Exit 38

From Exit 38, turn left onto SE Homestead Valley Road to cross under the freeway (road name may not be posted and may be designated as "Grouse Ridge Road" on some maps until it passes under the freeway)

Immediately turn right to stay on SE Homestead Valley Road and proceed 1.70 miles/2.70 km

Just before reaching a bridge and crossing under the freeway again, turn left onto the gravel road to the parking lot, indicated by signage for Olallie State Park and Twin Falls
Required Pass:
Discover Pass or equivalent for state recreation sites
Additional Trail Info:
Washington Trails Association
Northwest Waterfall Survey
---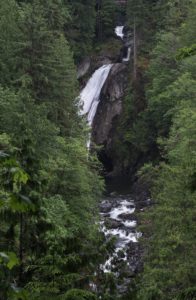 The South Fork Snoqualmie River's Twin Falls are a set of many in the Pacific Northwest dubbed "Twin Falls."   In fact, that moniker for these falls is a misnomer, as several separate falls in succession appear around bends in the trail as the South Fork Snoqualmie River bounds through a contorted and deeply hewn gorge before fanning down a cliffside at its surprise finale.  With their low elevation, the trails to the falls are accessible throughout the year and, because they pass through both deciduous and coniferous forest, offer scenery that varies with the season.  The ease of access to the falls also renders them a very popular destination – those seeking a more private viewing may wish to try visiting early in the morning or on a weekday.  (Another benefit of arriving early in the morning or on an overcast day is the more diffuse light available for photographing these unusual waterfalls.)
The Twin Falls are accessed from either of two trailheads and lie near the midpoint of the trail that connects them.  The western trail tracks the South Fork Snoqualmie River from below the falls, while the eastern route from the Homestead Valley trailhead begins on the mixed-use Iron Horse Trail before branching into forest and approaching the falls from above.  The trails provide three overlooks for enjoying different sets of the falls:  a widened spot at the corner of a switchback that views the upper falls, a bridge directly over the middle falls, and a steep, unmarked side trail to two small platforms perched directly over the main falls' splash pool and gorge.  Be sure to find all three for the full experience.  Also be sure to take appropriate footwear, as both trails also include sections that climb steeply or are narrow, rocky, and muddy.
Those wishing to add some distance to the relatively short jaunt to the falls may choose to hike both sections of the trail from end to end, walk further along the Iron Horse Trail in either direction (the Iron Horse Trail stretches over 100 miles/160 km from Cedar Falls to the Columbia River), or tack on a more robust hike up the trail to the summit of nearby Mount Washington, which departs the Iron Horse Trail a short distance from the Homestead Valley trailhead.
---
WESTERN TRAIL
From the western trailhead, the path meanders along the South Fork Snoqualmie River's boulder-strewn course below the falls.  The lush woodland about the western trail alternates between coniferous and deciduous forest and still includes a few old-growth giants.  Shielded from the noise of nearby Interstate 90 until just before it reaches the falls, the western trail offers a bit of riverine tranquility.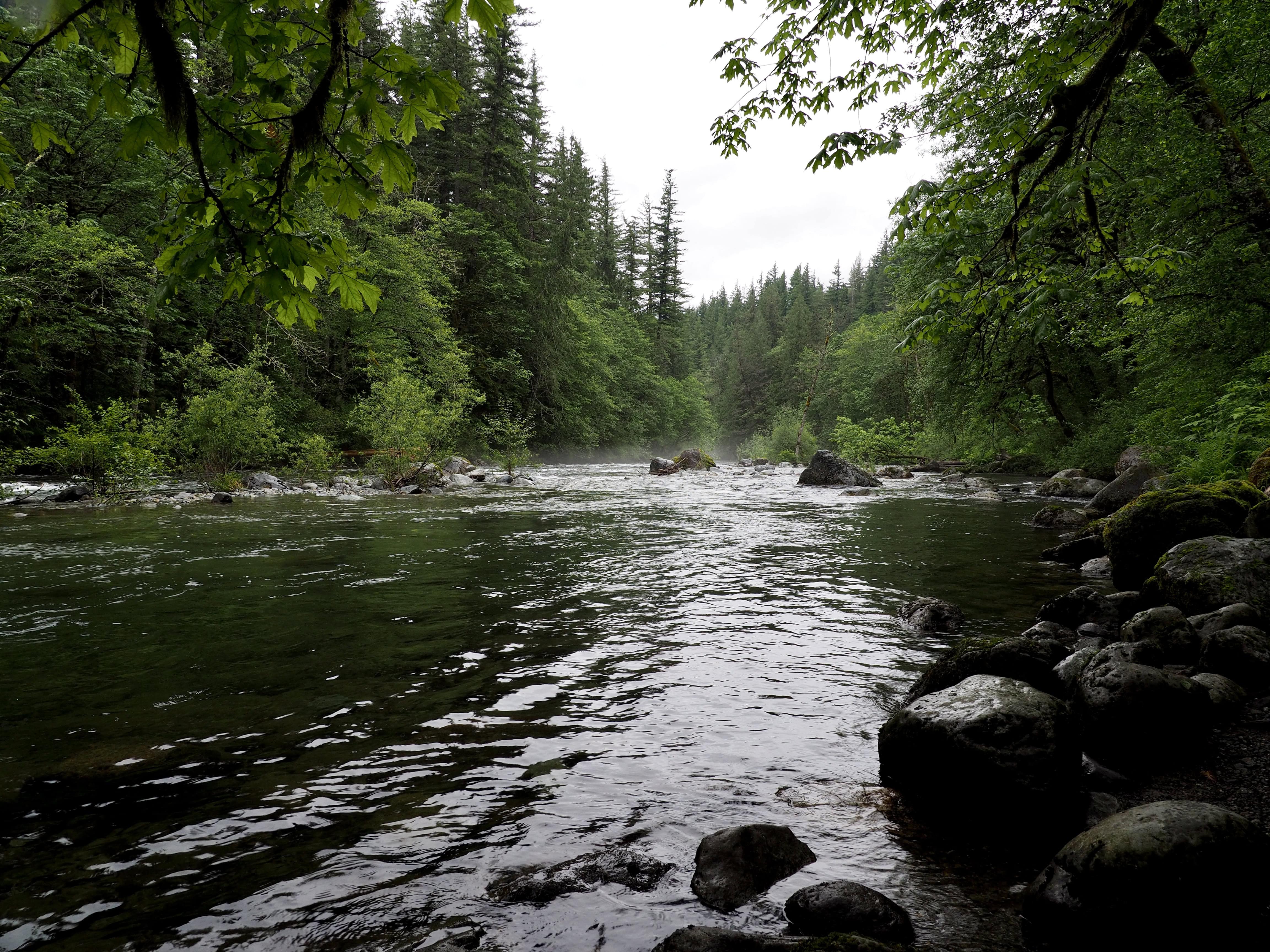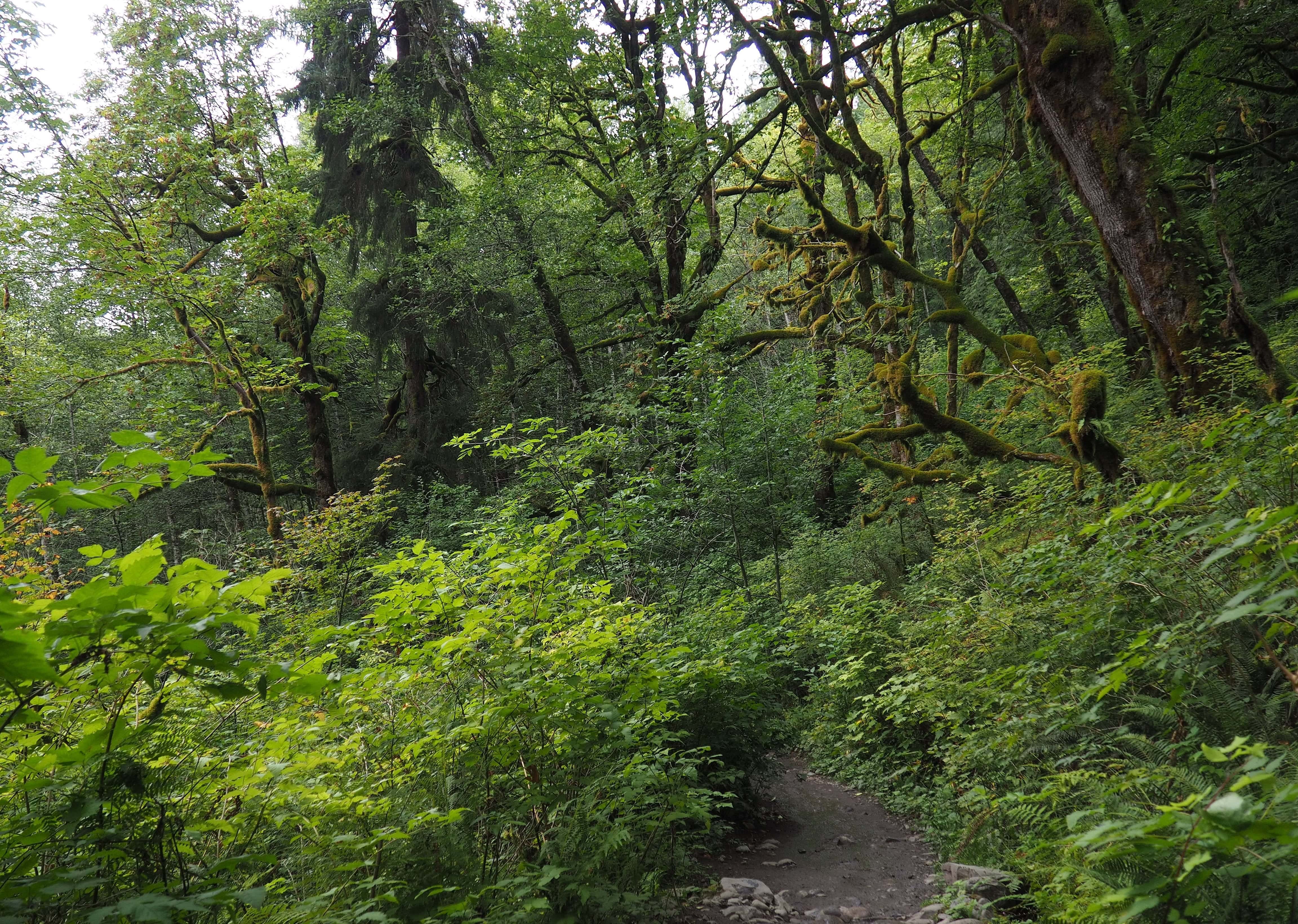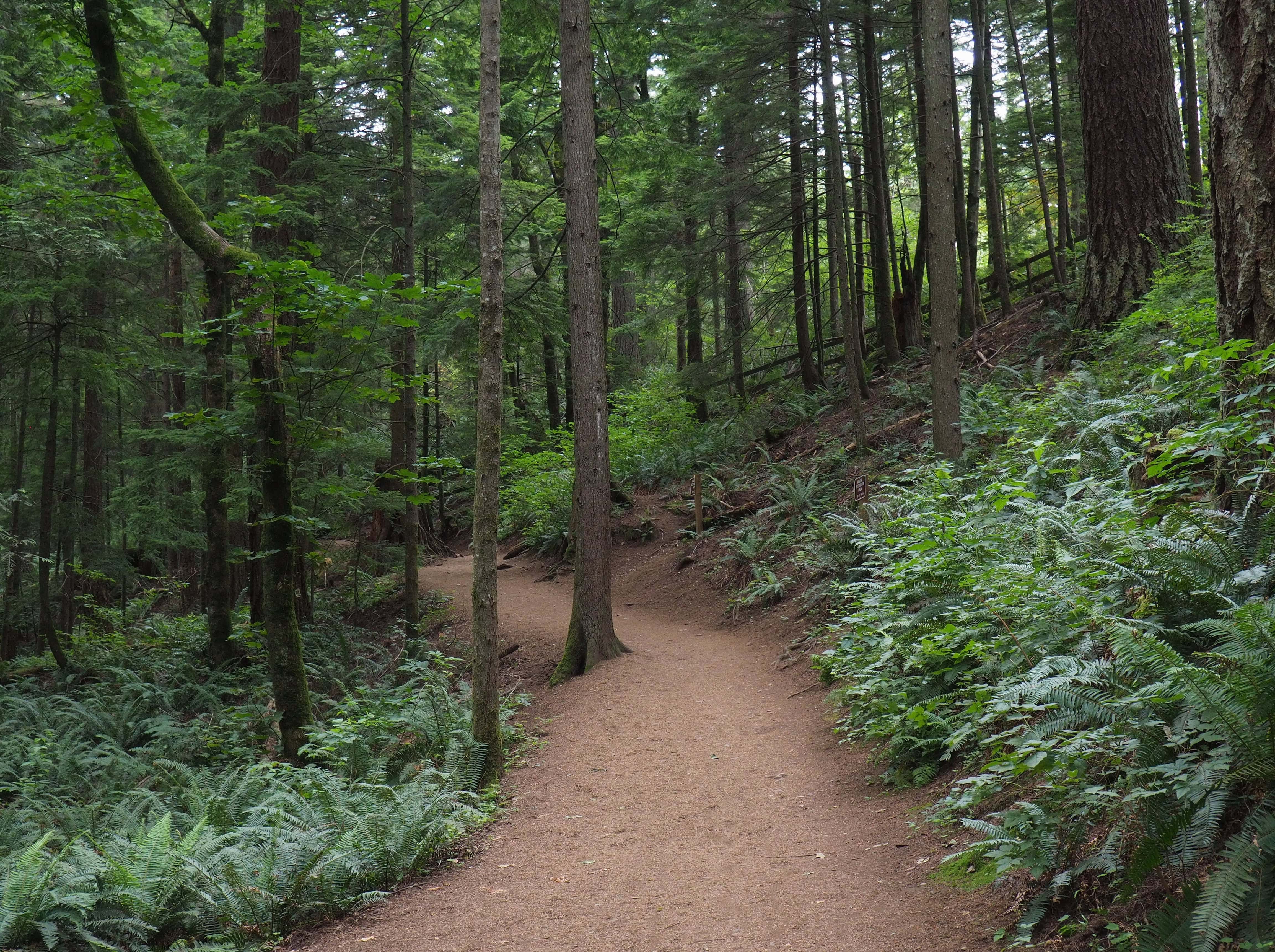 ---
EASTERN TRAIL
The falls' eastern access from the Homestead Valley trailhead offers a diversion for those enjoying the Iron Horse Trail, the former route of the old Chicago, Milwaukee, St. Paul and Pacific Railroad between Chicago, Illinois and Tacoma, Washington and now a wide gravel path popular with local walkers, runners, and cyclists.  Throughout the spring and summer, wildflowers line the Iron Horse Trail before the falls' eastern trail ducks into dense woodland.  The Homestead Valley route also provides a bit of anticipation, as it approaches the falls from above, leaving the grandest view of the falls' final descent for last.  Given the eastern trail's proximity to Interstate 90, the whir of traffic is ever present until drowned in the rush of cascading waters at the trail's end.
Signage for the Homestead Valley route is sparse.  From the parking area, a spur trail and then a gravel spur road lead a short distance to the Iron Horse Trail — turn right onto both the spur road and the Iron Horse Trail.  The eastern trailhead to Twin Falls is on the right approximately 0.30 miles/0.50 km down the Iron Horse Trail and is marked by a small sign.