Trail Highlights:

Panoramic views; old-growth forest; fungi

Round-trip Distance:

9.50 miles / 15.30 km
Location:
Alpine Lakes Wilderness and Mt. Baker-Snoqualmie National Forest,
Snoqualmie Pass / Snoqualmie Valley, Washington Central Cascades

Ancestral lands of the Snoqualmie
Directions:
From eastbound Interstate 90, take Exit 52

From Exit 52, turn left onto State Route 906 (road name may not be posted)

Cross under the freeway and, in 0.10 miles/0.16 km, take the first right onto Forest Road 9041 (road name may not be posted)

Take either fork to one of two parking lots

A short trail leads from the lot on the left to the trailhead at the end of the lot on the right


From westbound Interstate 90, take Exit 53

From Exit 53, turn left onto Yellowstone Road

Proceed under the freeway 0.20 miles/0.30 km to an intersection

Turn right into State Route 906 and proceed 0.70 miles/1.10 km just beyond the freeway overpass (road name may not be posted)

0.10 miles/0.16 km beyond the freeway overpass, take the first right onto Forest Road 9041 (road name may not be posted)

Take either fork to one of two parking lots

A short trail leads from the lot on the left to the trailhead at the end of the lot on the right

The trail branches left from the Kendall Katwalk/Pacific Crest Trail 2.40 miles/4.00 km from the trailhead, as indicated by signage
Required Pass:
Northwest Forest Pass or equivalent for U.S. Forest Service sites
Additional Trail Info:
U.S. Forest Service

---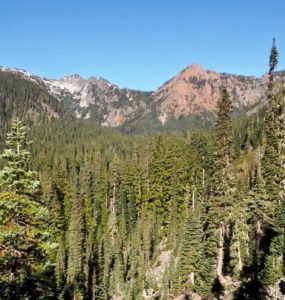 In earlier days, the trail along Commonwealth Creek formed one leg of the old Cascade Crest Trail before it was rerouted and renamed as the Pacific Crest Trail (probably to avoid the creek's variable flooding and surrounding bogs).  Now much less visited and seeming almost forgotten and wild, Commonwealth Basin offers a bit of solitude as its trail meanders through old-growth forest and pooling waters before climbing to a view every bit as grand as that from the Pacific Crest Trail's better-known Kendall Katwalk on the other side of Red Mountain.
The trail shares a trailhead with the segment of the Pacific Crest Trail that leads north to Kendall Katwalk and, after skirting Kendall Peak's flanks for 2.50 miles/4.00 km, splits off into Commonwealth Basin and continues another 2.00 miles/3.20 km up to Red Pass.  An abandoned trail-turned-bootpath continues a scant quarter mile/0.40 km to the lowest peak of Lundin Peak's false summit.  This profile begins where the Commonwealth Basin Trail branches from the Pacific Crest Trail.
Although Commonwealth Basin is a popular winter snowshoeing destination, avalanches on Red Mountain and down Red Pass have proven deadly.  In winter and spring, be sure to check trail conditions and avalanche forecasts before venturing up the pass.  At any time of year, expect to encounter soggy ground throughout the basin where the trail has fallen into disrepair.  And, at Red Pass and Lundin Peak, exercise caution along the cliffs' edges that create their dramatic views.