Trail Highlights:

Mountain, lake, and creek views; waterfalls; wildflowers; old-growth forest; historic context

Round-trip Distance:

7.60 miles / 12.20 km (Elliot Creek Loop)
≅ 12.00 miles / 19.30 km (Elliot Creek and Goat Lake) (add 1.00 mile / 1.60 km if taking the Upper Elliot Trail both ways; subtract 1.00 mile / 1.60 km if taking the Lower Elliot Trail both ways)

Location:

Henry M. Jackson Wilderness and Mt. Baker-Snoqualmie National Forest,
Mountain Loop Highway / Sauk Valley, Washington North Cascades

Ancestral lands of the Sauk-Suiattle and Skagit

Directions:

From State Route 92 in Granite Falls, Washington, turn left onto the Mountain Loop Highway

Proceed 30.10 miles / 48.40 km to the fork and end of pavement at Barlow Pass

Take the left fork, signed for "Darrington"

Proceed 3.50 miles / 5.60 km

Turn right onto Forest Service Road 4080, signed for "Elliot Creek and Goat Lake"

Proceed 0.80 miles / 1.30 km to the parking lot at the end of the road

Required Pass:

Northwest Forest Pass or equivalent for U.S. Forest Service sites

Additional Trail Info:

Washington Trails Association
U.S. Forest Service
Northwest Waterfall Survey
---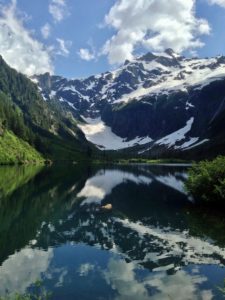 The trails along Elliot Creek (spelt "Elliott" on some maps) to Goat Lake offer much to commend themselves:  delicate, yet striking deciduous forest, a large grove of old-growth conifers approaching the size of redwoods, a series of thundering waterfalls, a jewel-hued lake set against a snowy peak, and a bit of local history.  During the summer, an array of shade-loving wildflowers and ferns abounds throughout the forested trailside.  In the lake basin's sunny clearings, the demure woodland blooms give way to showy displays of their more exuberant floral neighbors.
Approximately 0.25 miles/0.40 km from the trailhead, the trail forks into the Upper and Lower Elliot trails, which rejoin approximately 4.30 miles/6.90 km from the trailhead and continue on as the Goat Lake Trail.  The Upper Elliot Trail follows an old mining road and is thus broad and flat with little incline.  The Lower Elliot Trail drops down to Elliot Creek, which it follows a bit before climbing to rejoin its counterpart.  Each trail is worth exploring and hikers often take one trail on the way to Goat Lake and the other on the return.  Those wishing a shorter, tranquil stroll through deep alder forest may hike the Upper and Lower Elliot trails as a loop.
The lake is a popular, yet not crowded, weekend hiking and camping destination.  Expect to encounter others scattered along the lakeside or, perhaps, visit on a week day for a little more solitude.
Goat Lake is named in English for the mountain goats that can sometimes be seen on the surrounding peaks, although its historic Native American Sauk-Suiattle name is "Sweetleehachu." The mountain goats are culturally significant to the Sauk-Suiattle and, in former times, were important sources of food and clothing to them.