Trail Highlights:

Mountain views; lake views; old-growth forest

Round-trip Distance:

5.60 miles / 9.00 km
Location:
Mt. Baker-Snoqualmie National Forest,
Mountain Loop Highway / South Fork Stillaguamish River Valley,
Washington North Cascades

Ancestral lands of the stuləgʷábš, or, Stillaguamish
Directions:
From State Route 92 in Granite Falls, Washington, turn left onto the Mountain Loop Highway

Proceed 11.90 miles/19.20 km

Just past the "blue" (almost more grey or white) truss bridge (Bridge 538) over the South Fork Stillaguamish River, turn right onto the Mt. Pilchuck Access Road, as indicated by signage

Proceed 1.30 miles/2.10 km to the parking lot, keeping right at all forks

Most of the Mt. Pilchuck Access Road to the trailhead is unpaved — beware of potholes
Required Pass:
Northwest Forest Pass or equivalent for U.S. Forest Service sites
Additional Trail Info:
Washington Trails Association
U.S. Forest Service
Note:
The page profiles the Heather Lake in Snohomish County, Washington; another lake of the same name is located in Chelan County's Central Cascades.
---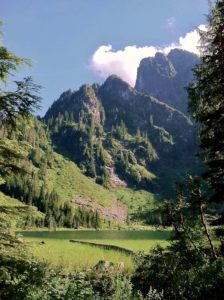 Over its short distance, Heather Lake's trail traverses distinct landscapes, contrasting stark, stump-filled new forest with lush, old-growth woodland before rounding a verdant alpine lake set amid rough-hewn peaks.  Deep shadows enclose the stripling forest below, but sunlight increases among the well-spaced ancient giants at higher elevation, opening entirely along much of the lakeshore where summer wildflowers proliferate.
As it climbs, the trail becomes increasingly rugged, often worn to rocks and roots that can be treacherous to navigate, especially when wet.  Be prepared with traction gear of choice.  Given its short distance and relative ease of access, the trail is a popular destination.  Those seeking more solitude may wish to visit on a less-frequented weekday.  Aside from the occasional chatter of other hikers, no sounds of civilization mar the alpine tranquility of birdsong and tumbling rills wafting across the stony lake basin.