Trail Highlights:

Lake views; panoramic views; wildflowers; autumn foliage

Round-trip Distance:

6.80 miles / 11.00 km (Cutthroat Lakes)
10.00 miles / 16.00 km (Cutthroat Lakes and Bald Mountain)

Location:

Morning Star Natural Resources Conservation Area,
Mountain Loop Highway / South Fork Stillaguamish River Valley, Washington North Cascades

Ancestral lands of the stuləgʷábš, or, Stillaguamish

Directions:

From State Route 92 in Granite Falls, Washington, turn left onto the Mountain Loop Highway

Proceed 17.90 miles / 28.80 km

Just before a red truss bridge (Bridge 537), turn right onto Mallardy Road, per signage for "Mallardy Road"

Proceed 1.30 miles / 2.10 km

Turn right onto Forest Road 4032, signed for "Walt Bailey T.H."

Proceed 5.60 miles / 9.00 km to trailhead at end of road


Forest Road 4032 receives little maintenance and may be high centered and potholed; be sure to check recent trip reports at the links below for current conditions.

Required Pass:

Northwest Forest Pass or equivalent for U.S. Forest Service sites. (Although the trail enters the state-managed Morning Star Natural Resources Conservation Area, the trailhead lies within national forest.)

Additional Trail Info:

Washington Trails Association
U.S. Forest Service

Note:

This page profiles the trail to Upper and Lower Cutthroat lakes, located in Snohomish County, Washington; the single lake of a similar name, Cutthroat Lake, is also found in the North Cascades, but on the mountains' eastern slopes in Okanogan County, Washington.
---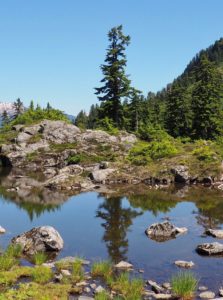 The Walt Bailey Trail climbs through alternating woodland and bogland along Mallardy Ridge to a pair of placid lakes set amid a labyrinthine network of tranquil reflection pools.  The Cutthroat Lakes' "basin" is more of an upland plateau riddled with ponds, tarns, and bogs and bounded on the south by a ridge of peaks stretching westward from Bald Mountain, just above the lakes, to the distant Mount Pilchuck.  It is no wonder that water spatters the landscape:  just beyond Bald Mountain, the much larger and deeply delved Spada Lake Basin traps incoming coastal moisture that creates one of the wettest regions in the North Cascades.
Little-maintained since it was built, the rugged trail is rocky, root-writhen, and often rain-slickened throughout.  Hikers who prefer trekking poles may find them especially useful on this trail.  The trail climbs moderately to steeply, but, once the lakelands are attained, rewards the diehard hiker with a tranquil stroll along a network of paths that entwines the patchwork of lakes and ponds.  Upon reaching the lake basin, head generally right to reach Lower Cutthroat Lake and generally left to reach Upper Cutthroat Lake.  The trail to Bald Mountain switchbacks directly upward from the east end of Upper Cutthroat Lake before arcing westward to the summit.
The trailhead is reached by a very narrow, one-lane road, often with steep drop-offs along one side.  Drive slowly around corners and keep note of the many small pull-outs along the way, should you need to back into one to permit an oncoming vehicle to pass. Expect to encounter a few, but not many other hardy hikers in this backcountry stretch of wilderness.
The moist trailside and lake basin are verdant during the summer months.  Blueberries (Vaccinium sp.) are abundant throughout the lake basin and up the slopes of Bald Mountain, providing a bounty of summer fruits and a flush of warmly hued autumn leaves.
The trail that bears his name was built at the inspiration and insistence of Walt Bailey, an active member of the local community who led its construction while in his 70s.