---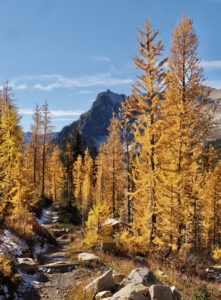 The Pacific Crest Trail's northernmost sections along State Route 20 offer relatively easy access to the grandeur of the North Cascades in an otherwise remote corner of wilderness.  Cutthroat Pass on the trail's Section L is a doable day hike destination with mountain views that broaden from its deep forest trailhead to its alpine finale.  It is also a prime location to enjoy another feature of the North Cascades:  the dazzling autumn foliage of the larches at the high-elevation treeline.
Beginning in the cover of dense evergreen woodland, the trail ascends the valley between Cutthroat and Porcupine peaks before switchbacking up the valley headwall to the pass.  Throughout, the grade remains moderate.  The trail rock-hops Porcupine Creek and several smaller streams, which may result in dampened feet.  Use care crossing the streams during high water and icy conditions.  At about 3.30 miles / 5.30 km from the trailhead, the trail emerges from the evergreen forest into the open larchwood, affording views of Cutthroat Peak and Porcupine Peak, as well as the seemingly unassuming Cutthroat Pass between them.  The grandest view is not apparent until reaching the pass and spying the parade of peaks marching in every direction.  Down the valley on the opposite side of the pass, look for the tiny dot that is Cutthroat Lake.  To extend your experience, consider continuing further on the Pacific Crest Trail or venturing down to Cutthroat Lake via the connecting trail between the pass and the lake.
Given its ease of access and spectacular sights, expect to share the trail with others, especially during the autumn larch season.  However, the trail quickly veers aware from the highway, leaving no other human sounds to intrude upon the woodland quiet.  Snow arrives early and persists into summer — be sure to check current trail and highway conditions at the Additional Trail Info links above and weather and avalanche forecasts before heading out.  Also note that the annual winter closure of State Route 20 eliminates access to the trail altogether for several months and that the parking area may be snowed in and inaccessible even after the highway reopens.