Trail Highlights:

Mountain and panoramic views; wildflowers; wildlife; waterfalls
Round-trip Distance:
≅ 5.50 miles / 8.90 km or more, depending on route
Location:
Mt. Rainier National Park - Paradise Area, Washington South Cascades

Ancestral lands of the Nisqually, Mishalpam (Upper Nisqually), and Taidnapam (Upper Cowlitz)
Directions:
Eastbound on State Route 706 (on some maps shown as National Park Highway), proceed to its terminus at Mt. Rainier National Park's Nisqually entrance just east of Ashford, Washington

Continue into the park on Paradise Road (on some maps shown as The Road to Paradise) and proceed 16.00 miles / 25.70 km to the parking areas at the Paradise Jackson Visitor Center

Several trailheads access the loop trail directly from the Paradise Jackson Visitor Center and Paradise Inn
Required Pass:
National park pass or equivalent for national parks and federal recreational lands
Additional Trail Info:
U.S. National Park Service
U.S. National Park Service (trail map)
Washington Trails Association
Note:
This page profiles Mt. Rainier National Park's Skyline Trail, rather than other trails of the same or similar name located in Washington's Benton, Chelan, Jefferson, Yakima, and Whatcom counties.
---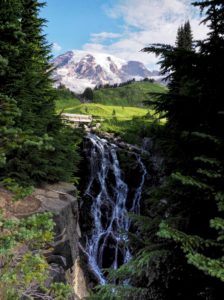 The Skyline Trail forms the backbone of a trail network that crisscrosses Mt. Rainier National Park's upper Paradise area.  This is a land of big views skimming peaks, valleys, glaciers, and newborn rivers, as well as glimpses of the flora and fauna that exist at the edge of life on the Cascades' highest peak.  Eleven side trails vary the hiking terrain from forest shadows to stony heights.  Between those extremes, a ribbon of verdant alpine meadows hems the frontier with a kaleidoscopic display of summertime wildflowers.  Together, these features forge the unique landscape that is Paradise.
The Skyline Trail itself is a loop that climbs — sometimes steeply — from several trailheads at the Paradise Jackson Visitor Center and Paradise Inn and, at its farthest, arcs just below the common climbing route to Mt. Rainier's summit before descending back to the trailheads.  The separately named side trails provide options for lengthening or shortening the hike, as do the connecting and equally scenic Lakes and High Lakes trails that ring lower Paradise.  Furthermore, the Nisqually Vista Trail, Alta Vista Trail, and lower portions of the Skyline Trail are paved or gravelled, increasing accessibility to hikers of various abilities.  The best way to choose your route is to consult the Park Service's handy trail map at one of the "Additional Trail Info" links above.
Despite their ease of access, the trails immerse hikers in wilderness immediately.  Wildlife is easily spotted, mostly deer and various smaller creatures, but sometimes also species as large as bears and mountain goats.  Although quite accustomed to humans, the animals are not tame and should not be fed or approached.  And, resist the urge to leave the clearly designated trails to snap that perfect photo, as the alpine ecosystem is delicate and, in the austere mountaintop climate, takes years to recover from damage inflicted by trampling feet.  Do expect to share the trails with other hikers, especially near the visitor center and inn, and enjoy snippets of conversation in accents and languages from around the world.  Finally, be prepared for sudden changes in the fickle mountain weather and for snow lingering on the trails well into summer.  At the "Additional Trail Info" links above, check out the National Park Service's site for the current Mt. Rainier weather forecast and the Washington Trails Association's site for trip reports on recent trail conditions.