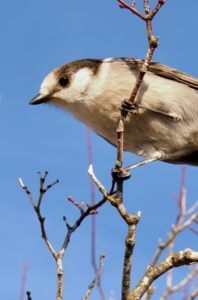 Good day to you, good day, Gray Jay!
What do you, can you say today?
Not like your cousins, not at all,
who shriek and scold and fairly brawl;
not like you, no, to chatter so,
like Blue Jay, Green Jay, Brown Jay — no!
But circling heedlessly — it seems —
you scorn their noisy, plotting schemes
and flitting sprightly to and fro,
and twitt'ring slightly as you go,
with no more word, no "May I, please?"

you leave the trees with swooping ease
and, sidling up with subtle tack,
you snatch my snack behind my back!
So tell me, tell me, now, Gray Jay —
what do you, can you say today?
© 2016 Anthony Colburn